UNIFORMS
We are a retail clothing brand with over 20 years of experience in the apparel industry. That means we know how to handle manufacturing and delivery.
A few years ago we created a 5 and 10 DAY TURNAROUND for custom sublimated jerseys (including your logo, number, name, sponsor logos, etc). This allows for a last minute decision for coaches and directors. Our system keeps your design and data in a file with small orders possible as the season progresses with no upcharges, even using the same design the following year.
CHINA is not an option anymore! Duty costs are now much higher and anyone that's using Chinese manufacturing is going to get your uniforms late and/or incomplete- they are behind the game at this point. Our uniforms are made and stocked in the USA.
We even have references! How do we do it, when not even Nike and asics can deliver uniforms on time and complete?? See below.
Greedy business tactics
Our recipe is simple. We don't take more business than we can handle. All teams need their jerseys at around the same time so its impossible to do a good job when you have a sales department promising the world with a production team that cant keep up. Its simple math yet thats the way sales are structured in most companies. Yes, its tough to turn down business but in this game you need to know what you are capable of shipping on time, and do it every time. Late jerseys are a mess!
Our high end Jersey
The Long sleeve jersey pictured below is endlessly cutomizable. Made out of a super stretchy wicking material, we can match custom colors to your old jerseys and add logos to the sleeves, chest, and it comes complete with the player name, number, the works! Available in both girls and womens sizes. Priced to blow away the competition at $59 with a 10 day working time we expect to reach our capacity quickly so contact us to reserve your spot!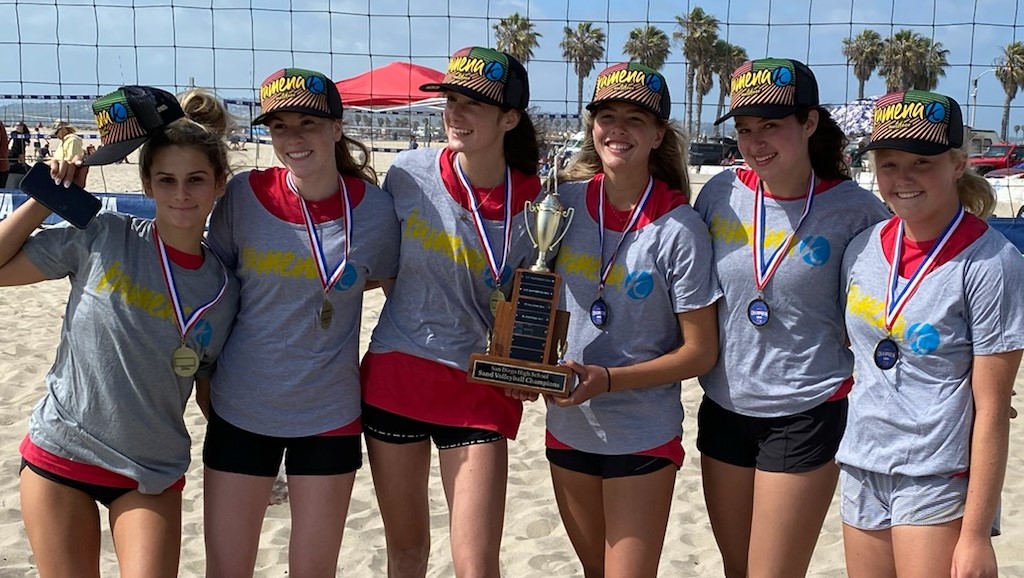 We have an economical option for those on a budget. The jersey below comes in a simple crewneck silhouette with performance wicking material in womens and girls sizes. There are limited custom logo options and we can match most colors. Player name, number, club name… the works. $29 with a 10 day production time. You heard right! We expect to reach our capacity quickly so contact us to reserve your spot!
As the premier sponsor and merchandiser of every major outdoor volleyball event in the nation as well as many of the top level players, we know how to make gear that looks good and performs great, and just as important have demonstrated the ability to DELIVER ON TIME.
Highlights of our program include the below, please read the post about our program here:
14 day production

on our sublimated jerseys (fastest in the industry)

No heat press

– screenprinting/embroidery and sublimation quality only.

Huge in stock program

for fast delivery

100% customer satisfaction for three years running!
"Plastic was great to deal with!  On time quality at a reasonable price."- Pat Powers (gold medal olympian and longtime coach and director

Please contact us at davek@plasticclothing.com for our full team line pricing.
We look forward to hearing from you!
Backpack pricing-
| Qty | Team Price | |
| --- | --- | --- |
| Buy 5 | $ 79 ea | |
| Buy 20 | $ 60 ea | |
| Buy 40 | $ 56 ea | |
| Buy 100 | $ 48 ea | |
| Buy 200 | $ CALL | |
Showing all 11 results